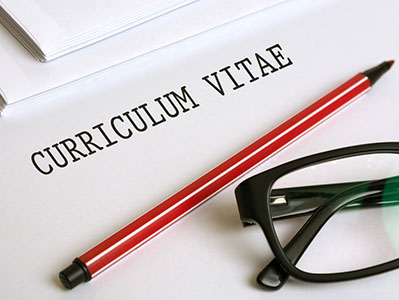 It's the start of a new year and the humble CV, you'll be pleased to know, is still very much in fashion, with 98.5% of recruitment professionals deeming a CV or resume to be essential application material in a recent industry survey.
Fashions do evolve, however. What might have been considered standard CV etiquette 10 years ago may not be doing you any favours with the employer or recruitments manager you're hoping to impress.
Here are our tip 8 CV errors to avoid in 2017:
1. The words "CV"
Avoid planting "CV" or "Curriculum Vitae" at the top of the page – at this stage, anyone reading it will have a clear idea of what it is they're looking at. Include your name at the top instead.
2. Photos and personal information
Unless you're an actor or model, there's no need to include a photo of yourself. The same goes for personal information (other than your basic contact details).
3. Personal aims and objectives
Employers today don't particularly care what you want – it's all about their needs. If you do decide to reference what you're looking for, make sure that it's an exact match for what they want.
4. Jargon and buzzwords
Recruiters appreciate plain speaking, so there's no need to litter the page with industry jargon, especially if it's not relevant to the sector you're hoping to work in. The same goes for "best-in-class", "synergy" and all those other generic buzzwords – they're not going to impress anyone.
5. Everyday hobbies
The fact you enjoy "reading, gardening and socialising" isn't exactly going to make a recruiter swoon. The interests section can really make you stand out, but to do so it needs to add another dimension to who you are. This is a chance to show your passion, the diversity of your interests and skills. If you can't get think of anything besides going to the cinema consider skipping this section altogether.
6. Political affiliations
Avoid references to memberships or affiliations with polarising (or arguably any) political groups, unless these are specifically relevant to the job.
7. Fluff
Unless you're going for a role as an artist or graphic designer it's best to keep the frills – infographics, wacky fonts, fancy headers and footers etc. – to a minimum.
As eye-catching as they are, they're also likely to distract from the real "meat" on your CV and may also confuse the applicant-tracking systems that many employers now use. Stick to a simple, modern font like Arial.
8. "References upon request."
It's clear you will provide references (otherwise you wouldn't apply for the job), so either include the names and roles of your references or de-clutter your CV and remove it.
While CV trends come and go, there's one overarching rule that never changes: don't include information that doesn't directly pertain to landing the job. Less is always more – so before sending your CV out into the big wide world do a double take to make sure everything on there is relevant to the person who'll be reading it.
Reference: UK Press; Abintegro
05 Jan 2017
CV