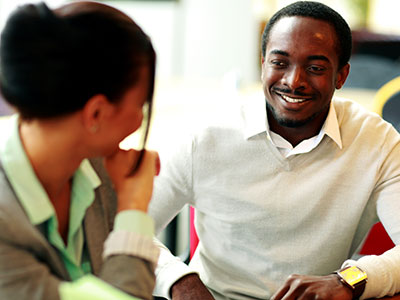 It's well known that you only get one chance to make a first impression, and when it comes to networking situations, the pressure to make the initial encounter count can lead people to try too hard and over-compensate.
Rather than going in all guns blazing, with a potential new business contact a more subtle approach can actually be more effective in leaving a lasting (and positive) impression with your new connection.
Here are our top dos and don'ts for first impression success:
DO
Know your own stuff
Making a good impression starts with having a firm idea of who you are and what you want to say. Being able to talk about yourself confidently (and succinctly) means you won't end up waffling or hogging the limelight.
Have a short elevator pitch ready, make sure you can deliver it clearly and with confidence, and be ready to pass the conversation over to your new contact when the opportunity arises.
Allow them space to shine
Successful networking involves making the other person feel like you're interested in them and what they have to say.
Ask a thoughtful question that will tee them up to speak openly and honestly about themselves, and grant them room to fill the conversation as they please. This will mark you down as a good conversation partner in their eyes.
Give them a reason to remember you
A good way to create a lasting impression (without dominating the conversation) is to wow your conversation partner with an interesting statistic or nugget of information.
Avoid lengthy anecdotes; it needs to be something short and sharp that will get them thinking, long after the meeting has taken place. The more closely related it is to their area of business, the better.
DON'T
Keep things too professional
Business networking events have a tendency to feel a little superficial, so connecting with your conversation partner on a personal level will make the encounter far more memorable.
Ask your counterpart what their passion is. What's the most interesting place they've been, or where they'd most like to visit in the world if given the chance? A personal thought-provoking question will catch them off guard in a good way and get them engaging with you.
Neglect to listen
In the commotion of networking and meeting new people it's easy to forget to actually listen to what the other person is saying. Being an attentive listener will improve your chances of retaining information (and potentially linking back to the conversation in the future); moreover, it will vastly enhance the perception your new contact develops of you.
Forget it's a two-way street
You may have focussed on this networking opportunity as an opportunity for you, but don't forget that they may be thinking the same thing. Looking for ways to help out a new connection is a surefire way to strengthen that connection. In order to offer help you firstly need to have processed who they are and what they are about and then asked pertinent questions.
If you can and do offer help make sure you make good on any promises.
The key takeaway from the above should not to be to go into an initial encounter giving it the hard sell, but rather to leave space for your new connection to make themselves heard. Complement this by keeping your own input short and sweet (but impactful) and you'll find that person will come away from the conversation with only positive memories.
Reference: Fast Company; Inc; Entrepreneur; Abintegro
26 Jan 2017